Aww, look at me doing back to back tags! This one is perfect because it's the middle of the year and am I freaking out about books I haven't read yet? Yes, I sure am. I was tagged by the great and wonderful Azia @ The Uncharted World. Go check out her blog if you don't follow her!
1. Best Books You've Read So Far in 2017?
Okay, I've read some really good books so far this year and there's no way I'm picking one.
Lord of Shadows and The Shades of Magic trilogy especially I loved to death and I'm still not over the endings.
2. Best Sequel of 2017 So Far
Again, Lord of Shadows by Cassandra Clare, sequel to Lady Midnight. I will be talking about this book until the next one comes out TWO YEARS later so prepare yourselves (I've literally been bringing this up everyday, it's impressive). I was able to read an early copy of Now I Rise, the second book to And I Darken, and that is also fantastic.
3. New Release You Haven't Read Yet, But You Want To
Flame in the Mist by Renee Ahdieh. This book has been sitting on my shelf for a month now and I haven't gotten to it yet but I really want to!
4. Most Anticipated Release of the Second Half of 2017?
After watching Wonder Woman last weekend, I'm even more excited for Leigh Bardugo's Wonder Woman Warbringer. The last book to the Magnus Chase trilogy comes out in October! And new Marie Lu books are always welcome.
5. Biggest Disappointment
I know, I know, I wish it wasn't so. I just couldn't get into The Dark Prophecy unfortunately. I liked it fine but I didn't love it, hence the disappointment.
6. Biggest Surprise
Words in Deep Blue by Cath Crowley. I'm not big into contemporary and I've only recenty started reading more contemporary books. I picked up this one because it was fairly short and I was going through a reading slump and it completely took me by surprise. I read this in one sitting until 3:00 AM and I was sobbing by the time it ended.
7. Favorite New Author (Debut or Author To You)
V.E Schwab and her Shades of Magic trilogy which I am now in love with. I have added all of her books to my TBR and will be making my way through them.
8. Newest Fictional Crush
Well, it is no longer Julian Blackthorn I can tell you that. Kell, Rhy and Alucard from Shades of Magic, I love them all so much!
9. Newest Favorite Character
See question above 🙂 But other than those three, I would say Kamala Khan from the Ms. Marvel comics. She's a high school student who writes fanfiction, comes from a traditional Muslim family, and then gets super powers? How cool is that?
10. Book That Made You Cry 
You know, I cry fairly often when reading sad scenes so it's not unusual.
Lord of Shadows again, are you surprised? And there has never been an Adam Silvera book that doesn't make me cry.
11. A Book That Made You Happy 
When Dimple Met Rishi by Sandhya Menon. ALL THE FLUFF IT'S SO CUTE! Like I said before, this book is basically a Bollywood movie turned YA book and I'm a sucker for Bollywood movies so I was obligated to love this.
12. Favorite Book to Movie Adaptation You've Seen This Year
Can I count Wonder Woman? It was so awesome and inspiring, I loved it! It's my favorite superhero movie now (granted I've only seen five).
13. Favorite Review You've Written This Year? 
My favorite reviews I write are always the ones that sound like somewhat coherent rants because they always make me laugh when I reread them in a few months. Probably my Lord of Shadows review where I poured my heart out (don't read it if you haven't read the book).
14. Most Beautiful Book You've Bought Or Received This Year?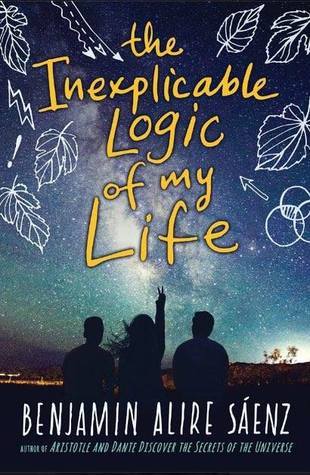 The Inexplicable Logic of My Life by Benjamin Alire Sáenz. I love the cover of this book and I need to start it soon.
15. What Books Do You Need To Read by the End of the Year?
Oh my gosh, I HAVE SO MANY I AM FREAKING OUT. Okay, I will just name the ones that are already out or I have ARCs of: Vicious by V.E Schwab (currently reading), This Savage Song by V.E Schwab, City of Brass by S.K Ali (so excited for this one!), Wayfarer by Alexandra Bracken, And the Mountains Echoed by Khaled Hosseini, All the Light We Cannot See by Anthony Doerr.
I Tag You
(No pressure as always if you don't want to do it or have already done it).