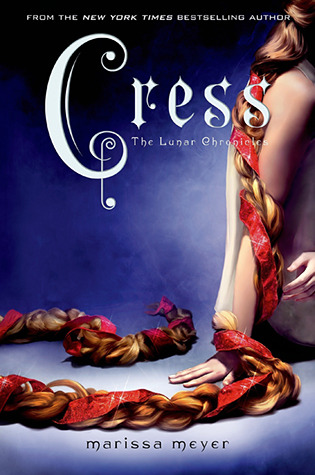 ~o~Rating~o~
Warning: Cress is the third book in the Lunar Chronicles series. This review contains spoilers for the first two books.
~o~Goodreads Synopsis~o~
Even in the future. there are damsels in distress…
In the third installment of the Lunar chronicles, Cress, having risked everything to warn Cinder of Queen Levana's evil plan, has a slight problem. She's been imprisoned on a satellite since childhood and has only ever had her netscreens as company. All that screen time has made Cress a great hacker. Unfortunately, she's just received orders from Levana to track down Cinder and her handsome accomplice.
When a daring rescue of Cress involving Cinder, Captain Thorne, Scarlet, and Wolf goes awry, the group is separated. Cress finally has her freedom, but it comes as a high price. Meanwhile, Levana will let nothing prevent her marriage to emperor Kai. Cress, Scarlet and Cinder may not have signed up to save the world, but they may be the only hope the world has.
~o~Review~o~
With each installment in the Lunar Chronicles, I feel like the books get better and better. Cress was absolutely marvelous! I love Marissa Meyer's world building and how she wove these unrelated fairy-tales together. All the characters have their own identity, and I love how I can understand them perfectly. Often times when authors introduce too many main characters, some of them lack personality which was never the case with these books. I think the pacing was perfect too. The characters are still getting to know each other and trying to find their own little place in the team.
Cress is the new member of the team of misfits. She has been stuck in an satellite for years working as the programmer/hacker of Luna. The only visitor she gets is Queen Levana's thaumaturge Sybil Mira. We find out that she has been the one hiding Cinder's ship all this time from radars so neither Earthens nor Lunars could find her. I thought Cress was a wonderful addition to the group! And of-course I loved the scenes with her and Thorne!
~o~SPOILER ALERT~o~
I LOVED how in the beginning you see everyone inside the Rampion coming together and working together in spite of all their differences. They all have a major part to play and I love that they are cooperating with each other. Scarlet and Wolf are so cute!
I felt so bad for Cress at times! Especially with her and Thorne being stuck in the desert. I was scared out of my life when I read Thorne was blind after the satellite crash. Here's to hoping his eyes go back to normal.
Cinder and Kai. THEY'RE FINALLY TOGETHER. Both of them have been through SO much! Cinder thinks she's turning into Levana because she used her powers to first torture Mira and then make her step-mom feel guilty; that made me so sad for some reason. And Kai is trying to be a good leader, but so much was resting on his shoulder. I liked how in the end of the book after Cinder told Kai she was Princess Selene, Kai asked Cinder to tell him anything else she was hiding. She tells him she isn't able to cry and you could tell how that fact bothered her so much. Oh, poor Cinder. That was one of those times where you just want to jump into the books and give the character a big hug.
Wolf was completely lost. Other than Scarlet, I think he suffered the most throughout the book. First the love of his life gets kidnapped by Lunatic Lunars and then he's basically used as a pawn first by Mira and then Cinder. I hope he's reunited with Scarlet soon.
There wasn't nearly enough Scarlet but we did get a pretty good description of Luna. I am super excited to get to know Winter. She seems so intriguing.  Why do I have to wait so long for Winter?!?!