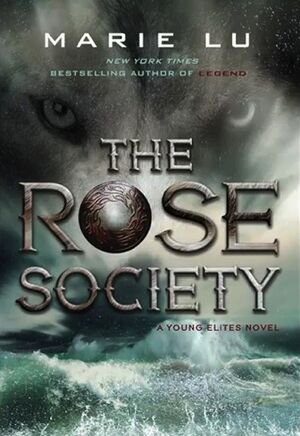 ~o~Rating~o~

Warning: This is the second book in the Young Elites series. The following contains spoilers for the first book, The Young Elites.
~o~Goodreads Synopsis~o~
Once upon a time, a girl had a father, a prince, a society of friends. Then they betrayed her, and she destroyed them all.
Adelina Amouteru's heart has suffered at the hands of both family and friends, turning her down the bitter path of revenge. Now known and feared as the White Wolf, she flees Kenettra with her sister to find other Young Elites in the hopes of building her own army of allies. Her goal: to strike down the Inquisition Axis, the white-cloaked soldiers who nearly killed her.
But Adelina is no heroine. Her powers, fed only by fear and hate, have started to grow beyond her control. She does not trust her newfound Elite friends. Teren Santoro, leader of the Inquisition, wants her dead. And her former friends, Raffaele and the Dagger Society, want to stop her thirst for vengeance. Adelina struggles to cling to the good within her. But how can someone be good when her very existence depends on darkness?
Bestselling author Marie Lu delivers another heart-pounding adventure in this exhilarating sequel to The Young Elites.
~o~Review~o~
"The irony of life is that those who wear masks often tell us more truths than those with open faces."
With authors like Marie Lu, who has written one of my favorite Young Adult series (Legend trilogy), I tend to let my expectations soar. With one of their series on my I-will-recommend-this-book-to-everyone shelf, I don't even consider that they might be letting me down. With Marie Lu at-least, that is not the case. The Rose Society is the perfect sequel. If you thought The Young Elites was dark, Rose Society is going to be a big (and hopefully pleasant) surprise. Adelina is no doubt the most morally ambiguous YA protagonist I have read about.
This book introduces some new characters and old characters reappear. The characters, old and new alike, are developed in a very believable way. Adelina's personality deteriorates so quickly, it's hard to root for her. Teren, who may or not be the book's villain (I'm actually not quite sure), is definitely Adelina's villain but even his character has a rich backstory. The Daggers, who are supposedly the "heroes", are not always very heroic in what they do (but their intention is the most good out of the three sides). Basically, everyone's evil and should die (yes, I'm joking).
As dark and disturbing as this was, it felt like a very quick read. (It's always funny how I just make the time to read when I really like a book, shoving aside all schoolwork. Probably not the best idea…).
This book was great This review no where near describes how much I loved it. Go read it!
~o~SPOILER ALERT~o~
I was fully expecting Maeve to bring Enzo back after that little glimpse of her in the first book. I don't know how I feel about that yet… I didn't like Enzo in the first one but his character certainly got more interesting.
I wanted more Raffaelle in the book. He's such a complicated and intriguing character; I was a little disappointed he didn't have more chapters. Teren's point of view was also very interesting. His "godly mission" to destroy all malfettos is completely delusional but fascinating.
In the end, I think it will be Violetta who takes away Adelina's power. It's clear she will never be satisfied. For the first time, I really want a main character dead.
I am VERY excited for the next book. But I have a feeling I'll have to wait another year.