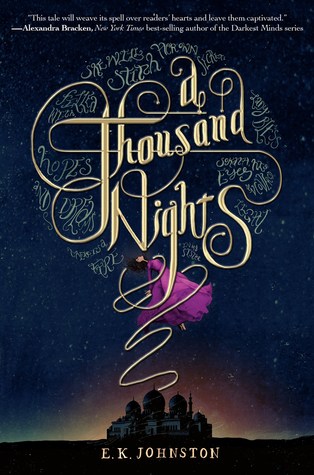 ~o~Rating~o~

~o~Goodreads Synopsis~o~ 
Lo-Melkhiin killed three hundred girls before he came to her village, looking for a wife. When she sees the dust cloud on the horizon, she knows he has arrived. She knows he will want the loveliest girl: her sister. She vows she will not let her be next.
And so she is taken in her sister's place, and she believes death will soon follow. Lo-Melkhiin's court is a dangerous palace filled with pretty things: intricate statues with wretched eyes, exquisite threads to weave the most beautiful garments. She sees everything as if for the last time. But the first sun rises and sets, and she is not dead. Night after night, Lo-Melkhiin comes to her and listens to the stories she tells, and day after day she is awoken by the sunrise. Exploring the palace, she begins to unlock years of fear that have tormented and silenced a kingdom. Lo-Melkhiin was not always a cruel ruler. Something went wrong.
Far away, in their village, her sister is mourning. Through her pain, she calls upon the desert winds, conjuring a subtle unseen magic, and something besides death stirs the air.
Back at the palace, the words she speaks to Lo-Melkhiin every night are given a strange life of their own. Little things, at first: a dress from home, a vision of her sister. With each tale she spins, her power grows. Soon she dreams of bigger, more terrible magic: power enough to save a king, if she can put an end to the rule of a monster.
~o~Review~o~
I know, the synopsis sounds quite a bit like Arabian Nights (also known as One Thousand and One Nights) and the two concepts are similar but this story is nothing like Scheherazade's.
To readers who are looking for typical YA books filled with action and romance: this is not for you. A Thousand Nights is a thought provoking, slightly eerie but beautiful book. It's like an elegantly written folk tale.
The story is set in a Fantasy world which takes a few traits from the early Islamic era in the Middle East. In this world, djinns (more commonly referred to as genies) roam the earth. Lo-Melkhiin is the ruler of a desert kingdom. Every girl he marries dies; everyone knows this but no one has tried to stop him from marrying because his rule has brought peace to the kingdom.
None of the characters except Lo-Melkhiin have names which, in my opinion, fits the story very well. The book starts off a little slow and full of details but the details were necessary for later chapters.
The two dynamics between the men and the women were also interesting to see. The men of-course believe they hold all the power, not realizing the strength and complexity of the women characters.
The main character is witty, determined, and fiercely loyal. She beautifies herself so Lo-Melkhiin will definitely pick her as his wife and spare her sister. I thought she was a great character. Growing up in the harsh desert land made her strong and confident in her abilities. She has rightfully earned her place as one of my favorite YA heroines.