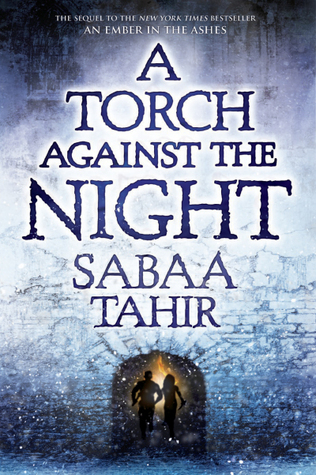 ~o~Rating~o~

Warning: This is the second book to the Ember in the Ashes series by Sabaa Tahir and the following contains spoilers for the first book. 
~o~Goodreads Synopsis~o~
Elias and Laia are running for their lives. After the events of the Fourth Trial, Martial soldiers hunt the two fugitives as they flee the city of Serra and undertake a perilous journey through the heart of the Empire.
Laia is determined to break into Kauf—the Empire's most secure and dangerous prison—to save her brother, who is the key to the Scholars' survival. And Elias is determined to help Laia succeed, even if it means giving up his last chance at freedom.
But dark forces, human and otherworldly, work against Laia and Elias. The pair must fight every step of the way to outsmart their enemies: the bloodthirsty Emperor Marcus, the merciless Commandant, the sadistic Warden of Kauf, and, most heartbreaking of all, Helene—Elias's former friend and the Empire's newest Blood Shrike.
Bound to Marcus's will, Helene faces a torturous mission of her own—one that might destroy her: find the traitor Elias Veturius and the Scholar slave who helped him escape…and kill them both.
~o~My Review~o~
"So long as you fight the darkness, you stand in the light."
Oh my gosh! This was SO GOOD. Okay, okay, let me just get my thoughts together.
All right, I think I'm good. All things aside, I thought A Torch Against the Night was the perfect sequel. The characters were true to themselves, there was more world building and we got to see much more of the Fantasy aspect of the Ember world.
The second book starts off almost immediately after the first where we last left Laia and Elias off down at the crypts. They are now runaway fugitives who are on a time limit to get to Kauf prison to get Laia's brother out of prison. Back in the Empire, the loathsome Marcus is now Emperor with Helene as his Blood Shrike. The Commandant continues to be her despicable self though she isn't as present in this book as she was in the last one.
ATAtN is not as action packed as Ember in the Ashes but it's more Fantastical. We see old and new magical creatures appear, still with an aura of mystery surrounding them. And action packed or not, it's still a page-turner.
Laia and Elias' relationship develops nicely in this book. And though I like Laia, I would still prefer Elias with Helene but Laia is growing on me. Laia has come a long way from the terrified girl she was in Ember. She is braver and much more confident.
My favorite thing about this book by far were the Helene pov chapters. I don't know why some people dislike her so much when in my opinion, Helene has the most depth out of all the characters in the series. Helene is now her own biggest enemy because she doesn't know who or what she fights for anymore. And she is just so precious!
We also see most of the side characters in the first book appear again (the ones who we left alive in the first book anyway). And though I had forgotten a few of them, we got recaps of what had happened to them in Ember. 
Overall, it was an absolutely glorious book that everyone must read. If you haven't read the first book yet and are a Fantasy fan, please do.
~o~Spoiler Alert~o~
I HATE Marcus with every fiber of my being and I need to see him die a slow and painful death in the hands of Helene. He destroyed that poor girl completely. I hate him like I hate Umbridge. Just. UGH
That reveal with Keenan? I was NOT expecting that. Maybe because we don't yet know what all the rules of this world are. We really didn't know much of anything about the Nightbringer before ATAtN. I never liked him though so it goes to show that I'm a good judge of character 😀
The whole idea of Elias being a Soul Catcher is something that'll take time to get used to. Better than him dying I guess?
All right, I guess that's it. I hope you didn't read the spoilers if you haven't read the book.