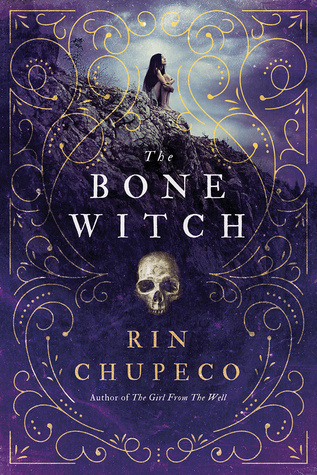 ~o~Rating~o~

"The beast raged; it punctured the air with its spite. But the girl was fiercer."
Tea is different from the other witches in her family. Her gift for necromancy makes her a bone witch, who are feared and ostracized in the kingdom. For theirs is a powerful, elemental magic that can reach beyond the boundaries of the living—and of the human.
Great power comes at a price, forcing Tea to leave her homeland to train under the guidance of an older, wiser bone witch. There, Tea puts all of her energy into becoming an asha, learning to control her elemental magic and those beasts who will submit by no other force. And Tea must be strong—stronger than she even believes possible. Because war is brewing in the eight kingdoms, war that will threaten the sovereignty of her homeland…and threaten the very survival of those she loves.
~o~My Review~o~
First off, thank you so much to the publisher (Sourcebooks Fire) and Netgalley for a copy of this book in exchange for an honest review.
I wanted to like this SO BAD!! I don't usually review books that I haven't finished but I felt like I needed to explain why I couldn't finish it. If I were to describe Bone Witch with one word, it would be boring. It's uneventful, and I honestly could not tell you what the plot is. The book started off well too, we find out that Tea is a Bone Witch when she accidentally resurrects her brother. And then… nothing happens. It got so bad, I started reading this book when I couldn't fall asleep at night. I only got through about 35% before quitting and calling it a day.
It's clear Rin Chupeco put a lot of thought into building this world and some of the concepts are original with a lot of potential which is why I read as much as I did. But rather than easing readers into this world, there are massive information dumps to where I couldn't keep up with the Fantasy elements. One of the concepts I really liked about the world though was the heartglass. The characters literally wore their hearts around their necks and heartglasses can give you a glimpse into a person's personality and powers.
The book's slowness also has a lot to do with the two different point of views: Tea is basically telling her story to someone else so half the chapters are from his point of view while the other chapters are her POV telling the story. That's a good idea and props to the author for trying but it wasn't doing well for me.
I love character driven stories and this was not one. Tea as a character has no substance and little to no emotion. She's just plain (sorry for the repetition) boring. I could not connect to her at all.
Bone Witch gets two stars because of the originality of the world. And the writing itself is good even if the execution isn't. (Also the cover fits in so well with my blog's color scheme!)
Have you any of you guys read this yet? Is it on your TBR?