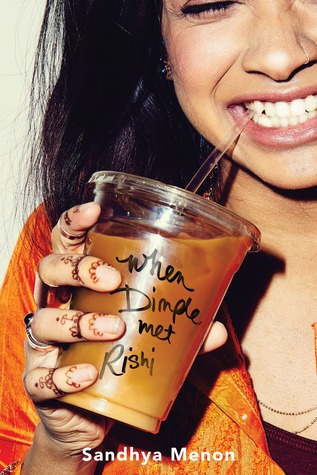 ~o~Rating~o~

A laugh-out-loud, heartfelt YA romantic comedy, told in alternating perspectives, about two Indian-American teens whose parents have arranged for them to be married.
Dimple Shah has it all figured out. With graduation behind her, she's more than ready for a break from her family, from Mamma's inexplicable obsession with her finding the "Ideal Indian Husband." Ugh. Dimple knows they must respect her principles on some level, though. If they truly believed she needed a husband right now, they wouldn't have paid for her to attend a summer program for aspiring web developers…right?
Rishi Patel is a hopeless romantic. So when his parents tell him that his future wife will be attending the same summer program as him—wherein he'll have to woo her—he's totally on board. Because as silly as it sounds to most people in his life, Rishi wants to be arranged, believes in the power of tradition, stability, and being a part of something much bigger than himself.
The Shahs and Patels didn't mean to start turning the wheels on this "suggested arrangement" so early in their children's lives, but when they noticed them both gravitate toward the same summer program, they figured, Why not?
Dimple and Rishi may think they have each other figured out. But when opposites clash, love works hard to prove itself in the most unexpected ways.
Release Date: May 30th, 2017
Goodreads | Amazon | Barnes & Nobles
~o~Review~o~
I picked this up at ALA Midwinter 2017 which was held in Atlanta this year. A huge thank you to Simon & Schuster for handing these out!
Ahh, this was so freakin' ADORABLE! This is a Bollywood romance turned into a YA novel. By Bollywood romance, yes I mean the cliches and the overused tropes and the songs and the drama, it was perfect! Now, if you don't already know this, I. Am. An. ABSOLUTE. Sucker. When it comes to Bollywood romantic comedies. And don't even get me started if the movie is starring Shah Rukh Khan.
Not the best gif I could've chosen…
Hehe, that's not any better.
Awwww, LOOK
Shounima, you're not even talking about the book anymore, get a hold of yourself!
Okay, okay, I apologize. On to the story.
Dimple Shah is the only child to her traditional Indian parents; parents whose biggest goal in life is to marry her to a suitable boy now that she has graduated high school. Dimple though has no desire whatsoever to get married. Dimple is a coder and her biggest goal in the book is to win a programming competition and meet Jenny Lindth, her programming role model. She is intelligent, determined, and is always struggling to find the perfect balance between her family's tradition and western society. I saw a lot of myself in her; I have never been so well represented in a book character before (she's literally me but much cooler). That's probably another reason I liked this book so much, I connected with the characters on a much deeper level than I usually do.
Rishi on the other hand is more traditional, he wants to do whatever will make his parents happy and he's completely on board with an arranged marriage. He is an artist at heart but is pursuing more "practical" goals like going to MIT to become an engineer. I understood where he was coming from, there's usually a huge pressure in South Asian culture to pursue careers in science and the arts are usually dismissed as silly hobbies that you are supposed to do on the side but not make a career out of.
The book itself can be best described as a romantic comedy and there were lots of funny scenes thrown in there with the romantic ones. I was giggling all through the book because of the sheer cuteness.
The author does add some Hindi dialogues when Dimple and Rishi are talking to their parents which may throw off some non-Hindi speakers. Though you do get the gist of what they're saying because of the context.
All in all, When Dimple Met Rishi was just plain adorable and I recommend it to anyone who's looking for a fluffy read.