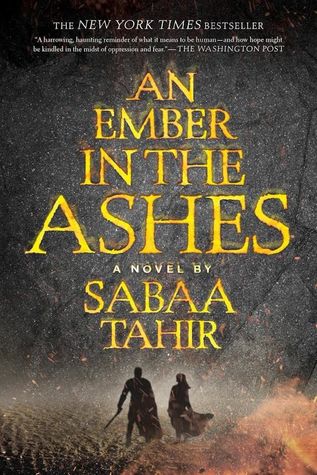 ~o~Rating~o~

~o~Goodreads Synopsis~o~
Laia is a slave. Elias is a soldier. Neither is free.
Under the Martial Empire, defiance is met with death. Those who do not vow their blood and bodies to the Emperor risk the execution of their loved ones and the destruction of all they hold dear.
It is in this brutal world, inspired by ancient Rome, that Laia lives with her grandparents and older brother. The family ekes out an existence in the Empire's impoverished backstreets. They do not challenge the Empire. They've seen what happens to those who do.
But when Laia's brother is arrested for treason, Laia is forced to make a decision. In exchange for help from rebels who promise to rescue her brother, she will risk her life to spy for them from within the Empire's greatest military academy.
There, Laia meets Elias, the school's finest soldier—and secretly, its most unwilling. Elias wants only to be free of the tyranny he's being trained to enforce. He and Laia will soon realize that their destinies are intertwined—and that their choices will change the fate of the Empire itself.
~o~Review~o~
You are an ember in the ashes. You will spark and burn, ravage and destroy. You cannot change it. You cannot stop it.
I LOVED, LOVED, LOVED THIS BOOK! LOVED IT! Loved the characters. Loved the plot. Loved the setting. Basically, loved everything.
Okay, okay. How do people write all these well thought out book reviews on books they love? All I can think is
Books like these are part of the reason why I love reading. It was absolutely fantastic! The synopsis might sound like just another YA Fantasy/romance but it was so much more!
I loved that through most of the first half of the book, Laia is shown as a frightened and cowardly girl. Unlike other YA heroines, she doesn't just suddenly find a well of hidden bravery within her and start killing people as she pleases.  She doesn't have extraordinary intelligence or strength; she's more of just a victim of her circumstance. She starts by taking baby steps as she gets more used to what she must do.
Elias is the Martial Empire's top soldier but he hates being one. He was forced to join when he was young and now he is eagerly awaiting graduation so he can leave the Empire's rules once and for all. He was also fantastic! He grew up in a tribe with a foster mother and was taken by the Empire at five. Because he didn't grow up with other Martials, he sympathizes with the lower classes. He wants things to be different but instead of wanting to change it, he wants to escape from it.
I think they were both awesome characters! Neither have a hero complex and would rather save themselves than the world. But both are loyal to their friends and would do anything for them.
My favorite character though was Helene. She is Elias' best friend who is also training to be a soldier. (The Empire only takes one girl soldier per year so Helene is the only girl in their year). She is loyal to the Empire, she believes in their rules and regulations even though she wishes things could be a little better. Considering she grew up with Martials in their society, I thought she was kinder than people give her credit for. And I loved her relationship with Elias!
The book kind of has a love triangle/square but not really. The book isn't that focused on the romantic aspect so if you hate love triangles, don't worry. It's more focused on their two individual lives and it feels natural whenever their paths connect.
READ IT! RIGHT NOW!!