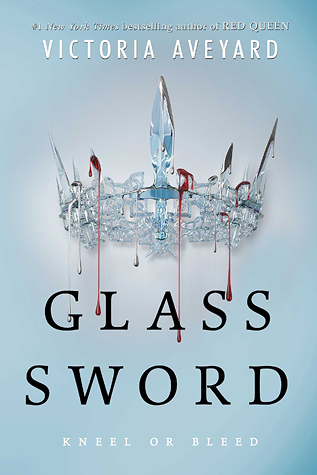 ~o~Rating~o~

Warning: This review contains spoilers for  the first book in the series Red Queen.
~o~Goodreads Synopsis~o~
If there's one thing Mare Barrow knows, it's that she's different.
Mare Barrow's blood is red—the color of common folk—but her Silver ability, the power to control lightning, has turned her into a weapon that the royal court tries to control.
The crown calls her an impossibility, a fake, but as she makes her escape from Maven, the prince—the friend—who betrayed her, Mare uncovers something startling: she is not the only one of her kind.
Pursued by Maven, now a vindictive king, Mare sets out to find and recruit other Red-and-Silver fighters to join in the struggle against her oppressors.
But Mare finds herself on a deadly path, at risk of becoming exactly the kind of monster she is trying to defeat.
Will she shatter under the weight of the lives that are the cost of rebellion? Or have treachery and betrayal hardened her forever?
The electrifying next installment in the Red Queen series escalates the struggle between the growing rebel army and the blood-segregated world they've always known—and pits Mare against the darkness that has grown in her soul.
~o~Review~o~
After being horribly disappointed with the first book, I don't know why I continued reading this series. Actually, I do know. I just can't stay away from people with cool powers no matter how tiring the story is. The first book had potential so I guess I wanted this series to get better. Where did that leave me? Horribly disappointed again. I don't understand why people are so obsessed with these books.
Most of Glass Sword was just plain boring. So many new characters were introduced but none of them were given any depth. The descriptions were heavy and there was a lot more telling than showing. Details in a book are generally good but huge information dumps are just confusing and… well, annoying. Even the action scenes seemed to drag on to the point where I would just start skipping paragraphs of unnecessary description.
And then comes my hatred for Mare. It's not even a strong dislike anymore: I seriously hate this girl. She's a whiny brat who thinks she is the only person in the world who understands pain. She treats all her friends like background characters, using them when needed and leaving them behind when she didn't. She doesn't trust anyone but expects everyone to trust her to make the "right" decisions. She just makes me angry!
Unless I'm completely out of books, I will definitely not be continuing this series.