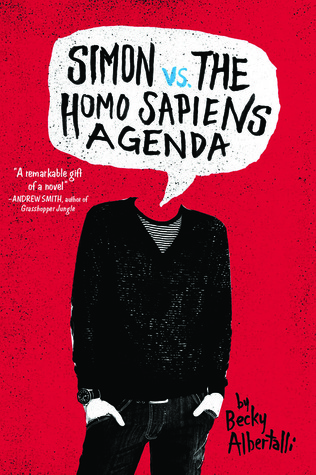 ~o~Rating~o~

~o~Goodreads Synopsis~o~
Sixteen-year-old and not-so-openly gay Simon Spier prefers to save his drama for the school musical. But when an email falls into the wrong hands, his secret is at risk of being thrust into the spotlight. Now Simon is actually being blackmailed: if he doesn't play wingman for class clown Martin, his sexual identity will become everyone's business. Worse, the privacy of Blue, the pen name of the boy he's been emailing, will be compromised.
With some messy dynamics emerging in his once tight-knit group of friends, and his email correspondence with Blue growing more flirtatious every day, Simon's junior year has suddenly gotten all kinds of complicated. Now, change-averse Simon has to find a way to step out of his comfort zone before he's pushed out—without alienating his friends, compromising himself, or fumbling a shot at happiness with the most confusing, adorable guy he's never met.
~o~Mini Review~o~
"Sometimes it seems like everyone knows who I am except me."
This book was super cute! The writing is simple without sounding childish. The scenario seemed very realistic. I've always liked the trope of pen-pals falling in love because then it really is two people falling in love with each other's minds long before there is any physical attraction.
As a high school student in Georgia, it was uncanny how similar these characters were to some of my classmates (so much that I couldn't help but assign each character to someone in my class. And now I'll never see them the same way again :D).
I'm giving it 4 stars because even though I loved all the characters, I felt like there could have been some more individual interaction between Simon and the others. There were some great scenes between Simon and his best friends as a group but I wanted more of him just talking to his friends individually. But it is easy to see that he has a great relationship with all of them and they all care about him a lot.
This is a tiny review but I honestly can't think of anything to say except "This was SO cute!"