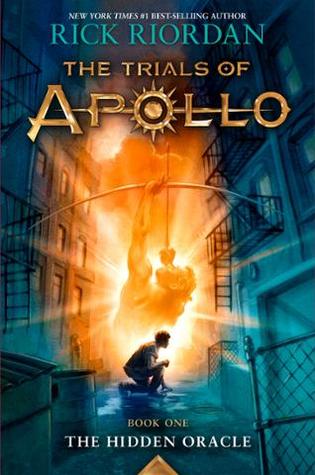 ~o~Rating~o~

Warning: The following contains spoilers for its two prequel series Percy Jackson and the Olympians and The Heroes of Olympus both by Rick Riordan. This is the first book to the Trials of Apollo series. 
~o~Goodreads Synopsis~o~
How do you punish an immortal?
By making him human.
After angering his father Zeus, the god Apollo is cast down from Olympus. Weak and disorientated, he lands in New York City as a regular teenage boy. Now, without his godly powers, the four-thousand-year-old deity must learn to survive in the modern world until he can somehow find a way to regain Zeus's favour.
But Apollo has many enemies – gods, monsters and mortals who would love to see the former Olympian permanently destroyed. Apollo needs help, and he can think of only one place to go . . . an enclave of modern demigods known as Camp Half-Blood.
~o~Review~o~
Do you have to read the other two series to read this? No, not really. But it would help with your understanding of the book so it is highly recommended. And wouldn't you rather know the full history behind these characters?
**Note: Again, spoilers for the first two series coming up. Not major ones but beware anyway.
I am SO glad I liked this book. Because, well, Blood of Olympus was horrible. I refused to consider that book a true conclusion so I was very excited for this chance to revisit my favorite characters. I kept my expectations at bay because after BoO and Magnus Chase (which was another disappointment), I didn't have much hope left. I was not disappointed!
Back to first person point of view! Honestly, the third person of HoO wasn't working out very well. Apollo's pov is nothing like the usual sarcastic-jokester Riordan protagonist. Apollo is whiny, self-centered and egocentric and I LOVED it. His mortal name? Lester Papadopoulos. Any other character who acted so pathetic would bother the Hades out of me but this is Apollo. He gets a freebie.
Meg was a wonderful addition to this world. She is a fierce twelve year old demigod living in the streets. She rescues Apollo right after he, quite literally, falls from Heaven. Apollo and Meg have a pure friendship and it seems like this is the first time two main characters won't be in a relationship in these series.
To those who are wondering if you see Percy and gang. Kind of. You definitely see Percy. And SOLANGELO IS CONFIRMED! It is no longer a thing of fanfiction!
Four stars because as much as I liked it, it didn't have enough WOW factor to make me love it. And I wish it was longer. Only 361 pages? That's not nearly enough.
~o~Spoilers Alert!~o~
Since I can't help myself, here are some of my favorite scenes.
"Yep," Percy agreed. "That pretty much describes my entire life: Because Poseidon."
Percy is just so done with this world.
"But the truth is we gods are a little in awe of you mortals. You spend your whole lives knowing you will die. No matter how many friends and relatives you have, your puny existence will quickly be forgotten. How do you cope with it? Why are you not running around constantly screaming and pulling your hair out?"
Apollo gave me a serious existential crisis.
And I love all the jabs Riordan makes at, dare I stay it, stupid people.
At this point, you may be wondering how I felt seeing my son with Nico di Angelo. I'll admit I did not understand Will's attraction to a child of Hades, but if the dark foreboding type was what made Will happy…

Oh. Perhaps some of you are wondering how I felt seeing him with a boyfriend rather than a girlfriend. Is that's the case, please. We gods are not hung up about such things. I myself have had… let's see, thirty-three mortal girlfriends and eleven mortal boyfriends? I've lost count.
The casual he talks about homosexual relationships in a middle grade book is honestly one of the greatest things I've ever read. Hats off to Riordan!
"Nico," I said at last, "shouldn't you be sitting at the Hades table?"

He shrugged. "Technically, yes. But if I sit alone at my table, strange things happen. Cracks open in the floor. Zombies crawl out and start roaming around. It's a mood disorder. I can't control it. That's what I told Chiron. "

"And is it true?" I asked.

Nico smiled thinly. "I have a note from my doctor."

Will raised his hand. "I'm his doctor."

"Chiron decided it wasn't worth arguing about," Nico said. "As long as I sit at a table with other people, like … oh, these guys for instance … zombies stay away. Everybody's happier."

Will nodded serenely. "It's the strangest thing. Not that Nico would ever misuse his powers to get what he wants."

"Of course not," Nico agreed.  
Every Solangelo scene in was just too perfect! I'm glad I read this at home because I would just start squealing whenever they came up. A few more of these and I'll put them above Percabeth! (Well… maybe a tie).
Nero waved dismissively. "But the Christians were terrorists, you see. Perhaps they didn't start the fire, but they were causing all sorts of trouble."
As a Muslim, I found this contrast absolutely hilarious.
"Eh," Leo said. "We took Gaea in, like, forty seconds. This'll be easy squeezy."

I seemed to recall that the lead-up to the fight with Gaea had involved months of suffering and near misses with death. Leo, in fact, had died.
Who trolls their readers better than Riordan? I believe this was a jab to all those (including myself) who complained about the BoO end scene to be too short and anti-climactic. And that none of the heroes died, which was actually great.
Other random thoughts:
Percy studying for the SAT's just so he could go to college with Annabeth. If that's not true love, I don't know what is. Especially since we know, Percy Jackson hates studying.
Austin and Kayla were pretty great and I'm glad we finally got to know them a little more.
Little Harley is so cute!
Leo and Calypso are going with Apollo! Not going to lie, I'd much rather have Will and Nico go but Leo is good too.
That Percy and Calypso reunion! I wish Annabeth was there.
I did not see the Meg thing coming! She's Nero's stepdaughter! This is one of the first times a Riordan book actually surprised me.