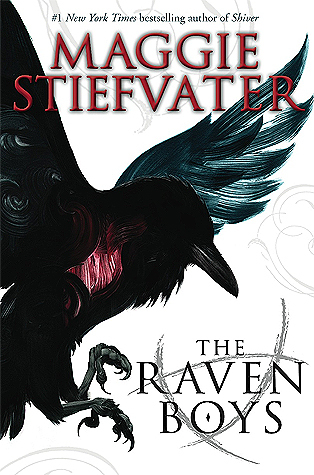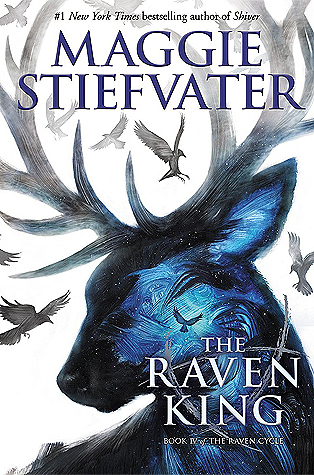 I read all four books in the series in a row so I decided to do a whole series review at once.
Overall: Say hello to one of my new favorite series of all time. I cannot believe it took me two tries to get through the first book. WHAT IN THE WORLD WAS I THINKING? The Raven Cycle series is wonderful and magical.
The first book hooked me when I started. I can't decide what genre The Raven Boys would fall into: Fantasy? Sure. Paranormal? Kind of. Does it have magic and magical elements? Yes. But it feels so real!
The characters Stiefvater created are magical. I have found yet another friends circle I would love to be a part of, up there with the trio of Harry Potter and the Argo crew from Heroes of Olympus or the Black Betty gang from Darkest Minds.
The books (and characters) get better and better as the series continues. Except for Ronan who is pretty much perfect all the way through. I highly recommend this series to anyone!
Let us continue. The later books have spoilers for the previous ones so don't read those if you have yet to read the books before it.
---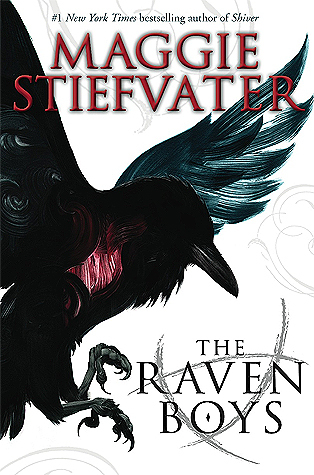 ~o~Rating~o~

"She wasn't interested in telling other people's futures. She was interested in going out and finding her own."
Blue started off as my favorite character. Blue, the only non-psychic in her house full of psychic women, longed to witness the extraordinary herself. There was Gansey on his quest to find and wake a sleeping king. Ronan who is wild and angry at the world for his father's death.  There's quiet and shy Noah who always pops in and out of the story. And then we have Adam, who lives with his abusive father in a trailer park and works his butt off to have a better future. I quickly grew to love Ronan and Gansey. Adam, I had lots of problems with. I thought he was too prideful and ungrateful starting off; in his mind, every sign of genuine concern from his friends was pity and a helping hand was charity. I sympathize with his situation but just, his principles are annoying to say the least.
Blue has always been told that she would kill her true love if she ever kissed him. And even though this comes up in this book, it is not a main plot point. The Raven Boys is not a romance, it is a mystery and adventure and a story of a bond forged by an unlikely group of teenagers.
Click here for Goodreads link. 
---
~o~Rating~o~
"While I'm gone," Gansey said, pausing, "dream me the world. Something new for every night."
The Dream Thieves was even better than The Raven Boys. This book felt more like Ronan's book than the others though everyone had a presence. In the end of Raven Boys, we find out that Ronan can pull things from his dreams. That's explored more in depth in this one.
Click here for Goodreads link.
***Some spoilers ahead for this one***
I actually don't remember most of the details since I read these all in a row. I did think this book was better than the first one, but just slightly. And a bunch of random thoughts coming:
I love how every time some creepy thing happens, everyone is automatically like, "Knock it off, Noah." 😀 Not in those exact words.
Mr. Gray grew on me quite a bit. He is a brilliant villain and quite a sympathetic one. I though he was much better character than Whelk. By the end of the book, he really isn't the villain anymore. I thought what he did was very noble and deserving of Maura.
We learn more about the psychic women living in 300 Fox Way and I have to say, I love the trio (Maura, Calla and Persephone). They're a very close knit group of women who have a firm set of beliefs and isn't afraid to show them to others.
Adam has been going through a lot but I still haven't gotten fond of him. He's just a little too rash in my opinion.
Ronan has earned his place as my favorite character. He's so sweet! Well, not really. But we understand him and why he does stuff a lot more in this book.
---
~o~Rating~o~

"I think it's crazy how you're in love with all those raven boys."
The third book to the Raven Cycle series or as I like to call it, the book where Adam finally redeems himself and earns his rightful place in this ferocious but loyal team of nutcrackers. Why nutcrackers you ask? I don't really know.
So, Blue's mother has disappeared down a cave. The search for Glendower continues. Adam is still Cabeswater's hands and eyes though he is learning to understand Cabeswater more thanks to Persephone. Noah is still dead and decaying. The Gray Man had teamed up with the heroes. There's a new villain in town – the Gray Man's former boss and the person behind the murder of Ronan's father – Greenmantle. And his extremely cunning wife Piper who really cares for nothing.
Ronan and Adam started teaming up more and I LOVE THEM. Same with Gansey and Blue. I wasn't sure about them at first, but they won my heart.
And I loved the Gray Man even more in this book. You can really tell how much he cares for Maura. And him and Blue teaming up was great.
Click here for Goodreads link.
---
~o~Rating~o~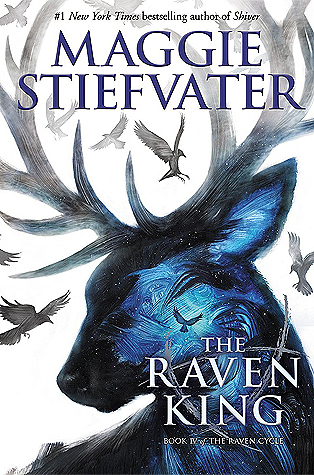 "What a strange constellation they all were."
The Raven King was an awesome conclusion to this wonderful series! An almost perfect one. I wanted more but what I got was great. All of these characters have come such a long way, I feel like like a proud mother.
Adam especially has gone through a lot of self-reflection, A LOT, and he's finally letting the others be his friend. *long applause*
Maura and Artemus (Blue's dad) are now out of the cave. And so are Piper and Neeve who have woken the third sleeper (a demon) who they were NOT supposed to wake. Artemus is useless. Persephone is dead. Glendower is now or never.
Click here for Goodreads link.
***Lots of spoilers ahead***
A moment for poor Gansey who's life's work pretty much meant nothing. Glendower is dead and they did not get a favor. BUT he found his best friends and true love in this fantastical journey and had the adventure of a lifetime. That counts for something, doesn't it?
All these unexpected Pynch moments!! I was squealing like a broken rubber duck! I love them! Same with Bluesy. They get a happy ending! I am joyous.
This is also the book that made me like Declan. He's pretty good after all.
Artemus is a tree? I was honestly pretty confused about that whole thing.
The involved addition of Henry Cheng was starting to worry me because I'm too used to our exclusive band of Raven Boys but he grew on me just like he grew on Gansey and Blue. I think he would be good for the group, especially with Noah pretty much gone now.
All in all though, I couldn't give this book five stars because there are SO MANY unanswered questions.
What the heck happened to Noah? So, he's the one who, all those years ago, spoke to Gansey and sent him on his search for Glendower. Okay… why? What's the purpose? And what happens now? Does Noah decay completely? Is he finally put to rest? Is he finally actually dead?
Whatever happened to Matthew? Did the sacrifice work? Is he okay?
Is Blue's curse gone? Does this mean she can now kiss Gansey without killing him again? I NEED ANSWERS
Whatever happened to that deal Gansey made with the principal about Monmouth Manufacturing? Was Helen successful in digging some stuff up about him?
Will Artemus forever be inside that tree? Does this mean Blue can also be a tree? Does that mean Blue is half tree and half human? I just don't know anymore.
I mean, I really enjoyed this book so I don't want to bump the book down to four stars but more closure would've been nice.