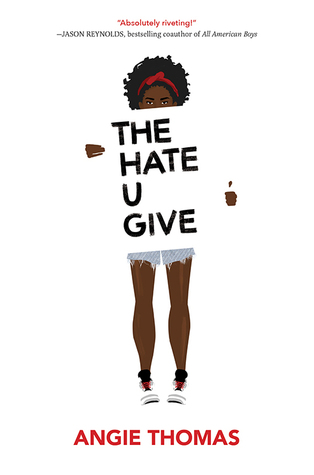 ~o~Review~o~

Sixteen-year-old Starr Carter moves between two worlds: the poor neighborhood where she lives and the fancy suburban prep school she attends. The uneasy balance between these worlds is shattered when Starr witnesses the fatal shooting of her childhood best friend, Khalil, at the hands of a police officer. Khalil was unarmed.
Soon afterward, Khalil's death is a national headline. Some are calling him a thug, maybe even a drug dealer and a gangbanger. Starr's best friend at school suggests he may have had it coming. When it becomes clear the police have little interest in investigating the incident, protesters take to the streets and Starr's neighborhood becomes a war zone. What everyone wants to know is: What really went down that night? And the only person alive who can answer that is Starr.
But what Starr does—or does not—say could destroy her community. It could also endanger her life.

Goodreads | Amazon | Barnes & Nobles
When books like this come along, I realize how incredibly inept I am at reviewing books. I'm sure everyone has either read this book or has at-least heard of it. It's pretty much everywhere now and the hype is very well deserved. It's been about a month since I read this and I've been putting off writing a review for it because nothing I say will justify how great of a book this is.
The Hate U Give is perfect. I was laughing and crying and was happy and heart-broken. If you are to read one book this year, this should be it. This is the epitome of an important book. 
The Hate U Give is inspired by the Black Lives Matter movement. It has really opened my eyes on a lot of issues that I was aware of but not to the degree in which they exist. This novel touches on police brutality, racism and racial profiling, micro-agression, etc. The fact that there are parents in the world who need to sit their children down and talk to them about how to protect themselves from the police if they are ever pulled over? That's APPALLING to me. But THUG also depicts the good side of cops through Starr's uncle who is like a father to her. Not all cops are racist and discriminatory and the story shows both sides.
Even though THUG portrays so many contemporary societal problems, it never seems like the author is shoving her opinions down her readers. The issues are all wonderfully crafted into the characters' lives and we see how it affects them on a daily basis.
Starr is a great main character. She is strong, funny and utterly relatable. She lives in two different worlds (as she would say). The neighborhood she lives in is impoverished, a little run down and crime ridden but she goes to a private school with wealthier kids that's about an hour from her house. Because she is a part of both worlds, she also doesn't think she can be wholly herself in either places. She struggles with finding her place in both her home community and her school.
There were quite a few funny scenes too. Lots of references to Harry Potter, High School Musical, Tumblr, and Starr's favorite show of all time: The Fresh Prince of Bel Air.
Another wonderful aspect of the book is the importance of family to the story line. Starr's parents are straight up awesome. They are supportive, encouraging but also stern. Starr has a great relationship with both her mother and father which can be hard to find in YA. Her older half-brother Seven is great: he is very protective of Starr and his two other half sisters. And Starr's little brother Sekani is just an adorable cutie.
Like I said before, I cannot stress enough how good this book is. EVERYONE needs to read it.
Have you read it? What did you think?